Patricia Nicholson's dance is steeped in the free jazz aesthetic of free jazz and an attention to spiritual and social responsibility. Beginning with the belief that dance is the visual manifestation of sound and energy, Ms. Nicholson has developed a singular practice, one drawing from both traditional and unconventional techniques to create an eclectic yet intuitive approach to movement and composition.
Patricia Nicholson has been writing and publicly sharing her poetry since childhood. Though she gives occasional readings, Nicholson's poems are most often tied to performance, whether serving as a written score for dancers or accompanying, rather than guiding, creative movement.
There is a choreography to Nicholson's approach to programming. She curates evenings with a deliberate arc, while emphasizing a dynamic flow and messaging. Her goal is to design nights that create a complete experience and engage audiences in active, and creative, witnessing.
Nicholson's widest-reaching influence has perhaps been in her capacity as an artistic and community organizer. In 1981, Nicholson choreographed and organized A Thousand Cranes Peace Opera, with 1,000 children performing in Dag Hammarskjold Plaza for the opening of the Special Sessions on Disarmament; in the mid- and late-1980s, she responded to a lack of visibility for free jazz by helping to organize the Sound Unity Festivals. In 1994, Nicholson brought together fifty artists to form The Improvisors Collective, whose highlights over the next two years included weekly events at Context Studios, 28 Ave A. Following that success, in 1996, Nicholson founded Arts For Art and the Vision Festival to promote and advocate for free jazz, raising awareness through this notable and uncommonly visible platform. Since, AFA has grown to be a movement that supports hundreds of artists annually working with the free jazz aesthetic.
After decades of creative production, programming, and organization, Nicholson's has begun focusing on developing strategies for the future: how to better the world in which we live; how to inspire, grow, and build a diverse community of uncompromising artists and audiences; and, most immediately, how to build a sustainable structure for AFA that will outlive her service and serve as a fitting legacy, one steeped in the ideals of artistic excellence and community responsibility she holds most dear. In her own words, "This is my 70th year; there is both a community to sustain, and the creative expression of my own art, yet to be shared. I am humbled by our collective creativity waiting to be expressed."
Current Projects
"Hope Cries for Justice" is a duo with a bassist William Parker specifically to carry a creative response to the current assault on justice.
'Studies In Freedom,' began in 2013 with William Parker and guests, performed in Montreal, Ottawa, and Washington DC, Detroit etc.

'Revolution Resurrection' with musicians Jason Kao Hwang, Michael TA Thompson, and dancer Jason Jordan and artist William Mazza began in January 2015 with performances at Evolving, VISION 20, Dissident Arts Festival & Roulette NYC, etc. For Vision 22, June 2016, Nicholson produced, directed and choreographed 'Songs for Freedom' for 19 musicians, 5 dancers with sets and live visual art projections.

'BLUE' began at the Vision Festival 24 in June, 2019 with Val Jeanty, Cooper-Moore, and visual artist William Mazza.
Highlights
a residency in Nicola-Lenivetz, Russia with performance in Moscow
a residency at Hurta Cordel, Madrid working with dancers Wendell Wells, Raquel Sanchez
"Music and the Shadow People," dance / theater work choreographed by Patricia Nicholson, performed at Theater for the New City, at the UnCool Festival in Poschiavo, Switzerland and at Guelph Jazz Festival, Canada.
"A Shadowed Light," directed and choreographed by Patricia Nicholson collaborating with William Parker and working with four Swedish dancers and ten musicians, performed in Sweden
"Mass for the Healing of the World," directed and choreographed by Patricia Nicholson with four dancers and William Parker's Little Huey Creative Music Orchestra, performed at the Verona Festival, Italy.
"Vision Peace and Battle Cries," directed and choreographed by Patricia Nicholson for 15 dancers and 15 musicians, performed at La MaMa, NY.
"A Thousand Cranes," a peace opera with a chorus of 1000 school children directed and choreographed by Patricia Nicholson in 1981.
AWARDS
"Producer of the Year" from the Jazz Journalist Association in 2003, 2006, 2008 and nomination in 2005.
Arts for Art received in an Award for Adventurous programming from ASCAP/CMA in January 2012.
Photo by Michael Wilderman
Teaching
Dance Coach 1985 – to present

Children's DANCE Program -1988 to 1992

Children's Day Camp with dance, music and art – summer of 1984 to 1986

Workshops in New York, Russia, Sweden, France, Hungary 1998 to present

Dance workshop at Mindbuilders Creative Arts Center – October 2016

Improvisation & Dance Workshop at Just Listen! Festival, Marseille, France – October 2017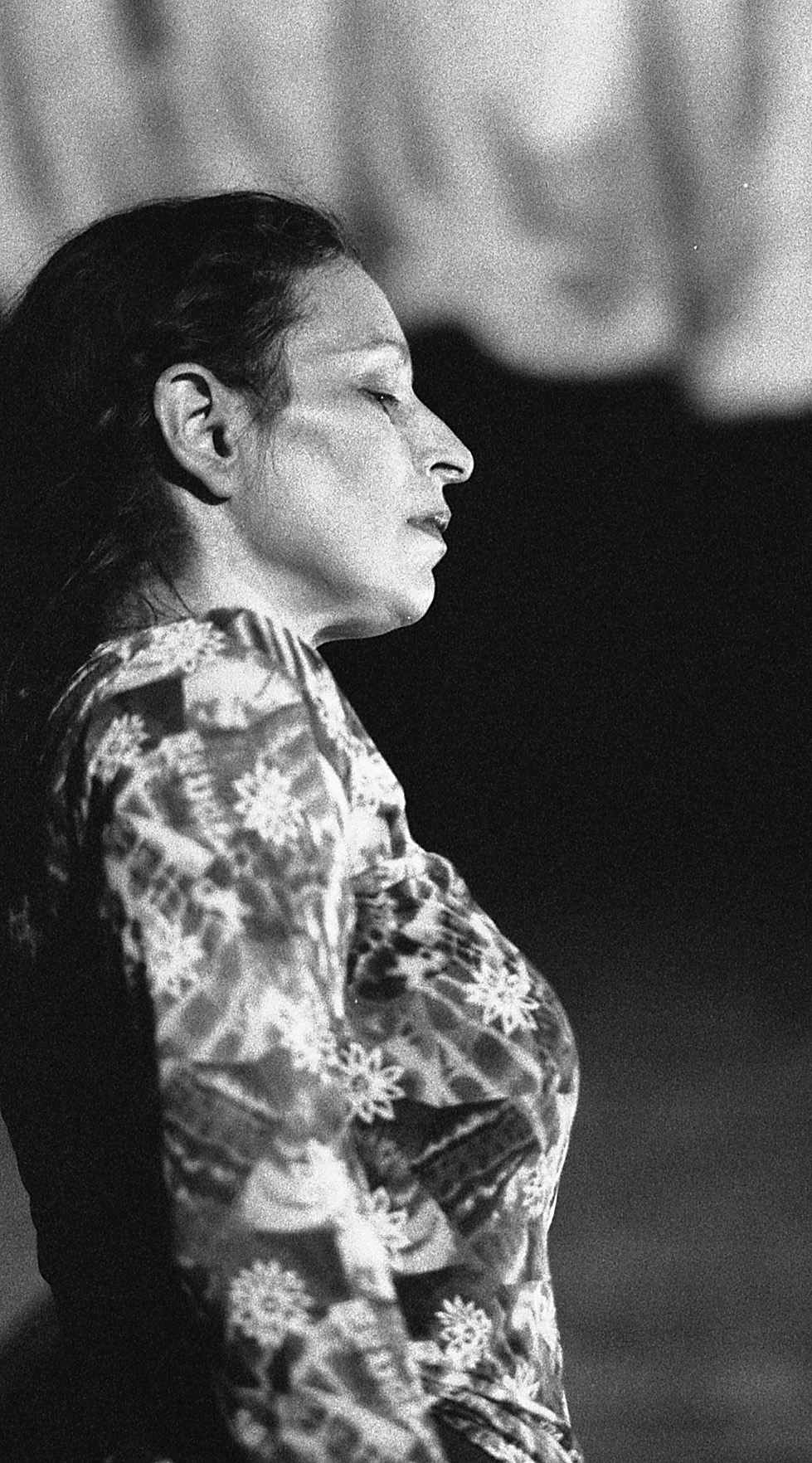 dancer, poet and organizer of movement, music and causes - has developed her work within the aesthetic of free jazz. Her use of composition and improvisation is influenced by this consistent relationship.
–"Sound moves across our physical bodies, interfacing upon a universal dreamscape, till we imagine & dance the possibility that changes everything".
Her work has been presented at festivals in Sweden, France. Spain, Hungary and Italy as well as in the US.
Photo by Michael Wilderman